Trips Page
Last Update:
Sat 07 Jul 2018

Wombeyan Caves
If you havenít been to Wombeyan Caves before, there is a lot you need to know. Itís a very beautiful area even if you donít go caving with a club or even get underground. There is bush walking, swimming in Mares Forest Creek, star gazing at night and tourist caves to do.
How to get there
There are 2 ways to get to Wombeyan from Sydney, either via Mittagong or Goulburn. The area is known for kangaroos and plenty of them so keep your speeds low to give yourself time to stop. There are also wombats, goats and cows so keep a close watch for wildlife.
It is highly recommended that if you have never driven to Wombeyan Caves before that you travel via Goulburn
Option 1
Travelling through Mittagong and via the Wombeyan Caves Road, it takes about 1.5 hours from Mittagong to Wombeyan Caves. The last hour of driving is on a windy, dirt road, and most of this is only single lane width with passing bays. Take extreme care on the tight blind corners for oncoming traffic. It is highly recommended to have your headlights switched on at all times.

The dirt road is narrow and has no guardrails, so take extra car or itís a steep drop into the valley.
There are often rock falls and washouts after rain so a low car will need to take caution. A soft roader or 4WD is recommended, but not required. Trailers or large vehicles such as motor homes are not recommended on the dirt road as passing other vehicles can be dangerous. If there has been heavy sustained rain, the Wollondilly River often floods. There is a large yellow sign at the start of Wombeyan Caves Road advising of any road closures. If the river is flooded then the below option 2 route is required via Goulburn.

Typical rock on the dirt road.
There is an interesting single lane tunnel through a hill about a kilometre along the dirt section and a great lookout about another kilometre past the tunnel, which are both worth stopping for.
Option 2
Travelling through Goulbourn is about 70kms further than option 1, but suitable for all vehicle types. There is however still about 10kms of dirt road. This route also adds about 20 to 30 minutes of driving time.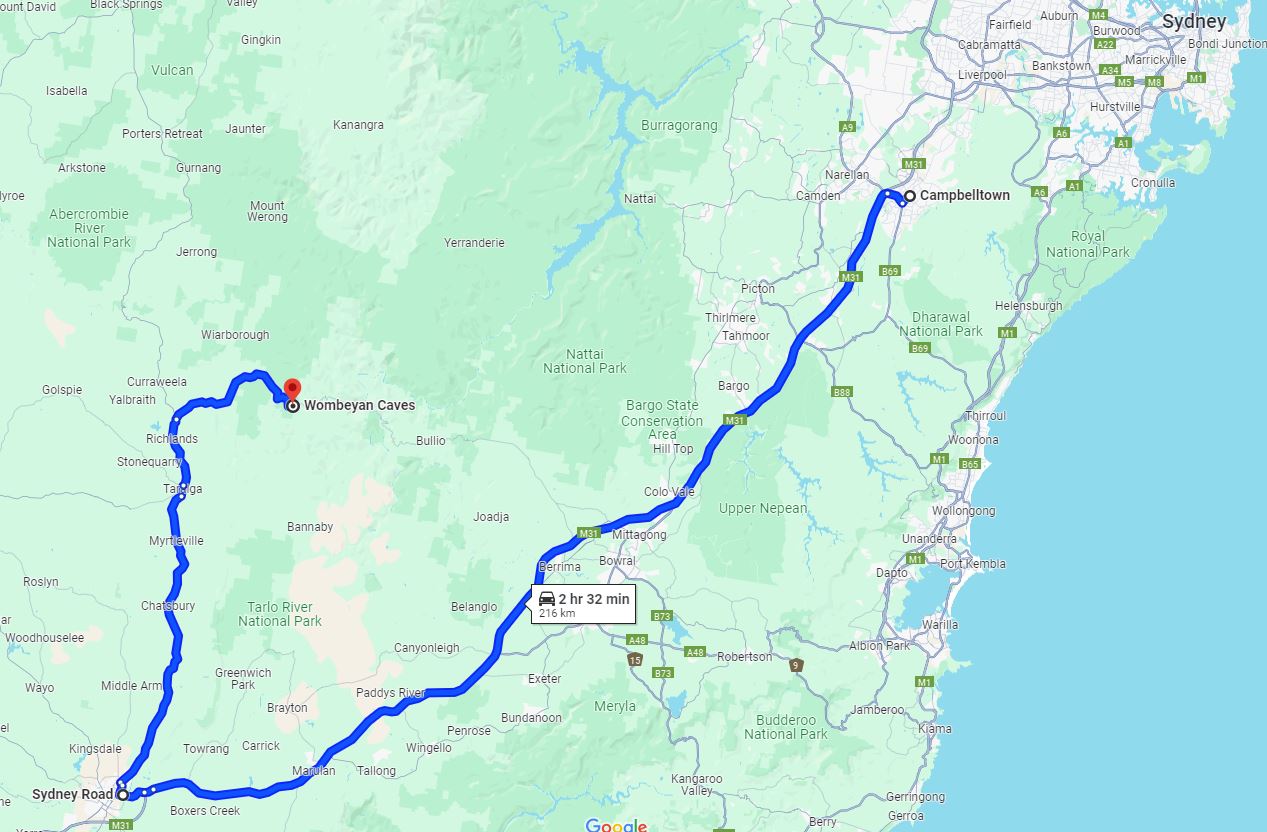 Wildlife
The Wombeyan Caves area is known for having a lot of Kangaroos. So when you drive there, be on the watch for any on the road and keep your speed down. There are also wombats, they are slow, but can still cause a lot of damage to a car.

Phone reception
If coming via Mittagong, phone reception drops out once you hit the dirt section on Wombeyan Caves Road. If coming via Goulburn, there is reception most of the way until after leaving Taralga. There is no reception at Wombeyan Caves. There is however a public phone outside the kiosk.

Fuel locations
Last fuel via Option 1 is at Mittagong. Last fuel via Option 2 is Goulbourn. Their is NO fuel available at Wombeyan Caves.

Food supplies
Best to bring all the food you need, but if you need food on the way Mittagong and Goulburn have major shopping centres.
Bring cash to Wombeyan as there is no EFTPOS. The Wombeyan Parks office has limited food such as pies, chips, sausage rolls, drinks, ice creams etc.

Climate
Summer can be very hot, 40 degree days are not uncommon during summer. There are plenty of shady trees around so itís easy to find a camping spot that has shade for most of the day.
Winter temperatures can drop below zero at night so bring warm clothes for those cold nights.

Best times to visit
On normal weekends there is always people around, but on long weekends for either NSW or Canberra it is very, very busy. During the week however it is very quiet and you wonít see many people around if any other than the National Parks staff.

Camping
Accommodation is available in cabins, but most people camp. There are free public toilets, showers, a camp kitchen and a dining hall with an open fireplace.
Camping fees are required for camping and are paid at the parks office between 9am and 5pm 7 days a week. Camp fires are permitted in the supplied fire pits, but firewood is very scarce at the campground. It is best to bring your own firewood.
SSS usually camps at the SSS Campsite (see red star below) unless other campers have occupied the area.
There is no booking of campsites so best to get there early if you want a specific spot. There are no marked campsites so you have lots of choice for your setup no matter what type of camping you plan on such as camper trailers, motor homes or tents. There are limited powered sites for a fee.

Caving
There are 5 tourist caves that can be explored. Tokens are required for some self-guided caves, which are purchased from the Parks office. There are also guided tours into Wombeyanís best show caves.
If caving with SSS, we head into the more remote caves in the area, which often require some bush walking. Some of these caves require ropes and SRT gear due to vertical drops in the cave.
If you intend on coming along to any SSS trip please make sure you contact the trip leader prior to the trip to advise your attendance this will ensure you have any last minute changes to the trip and to find out any specific requirements for that particular trip.
© Copyright Sydney Speleological Society Inc.
1996-2014