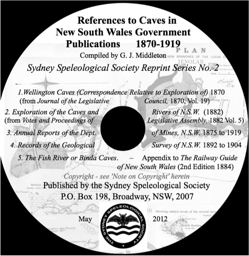 References to Caves in New South Wales Government Publications 1870 - 1919 (On CD)
SSS Reprint Series No. 2
Compiled By:
Gregory J Middleton.
Published:
2012. On CD.
Description/Contents:
This CD contains, in PDF format, digital versions of:
* Correspondence relative to the exploration of Wellington Caves, 1870
* Exploration of the Caves and Rivers of NSW, 1882 (Parliamentary papers)
* Excerpts relating to caves and karst in the Annual Report of the Dept of Mines between 1875 and 1919
* Papers relating to caves in the Records of the Geological Survey of NSW from 1892 to 1904
* C.S. Wilkinson's report on The Fish River or Binda [Jenolan] Caves (1879, reprinted 1884)
Information:
All of the text is fully searchable and all the cave and location maps, photographs and other graphics have been reproduced (in colour where appropriate). Some plans have had to be scaled down to fit the A4 format. Footnotes have been inserted to clarify some points and to facilitate locating other items referred to. An esential compendium of the early official documentation of caves in N.S.W.
If printed , the document would comprise 401 pages of A4 size. There are 109 pages of graphics. This is not a facimile (many of the origianl pages where foolscap size) but the page layouts have been closely followed and original pages numbering is shown so that references can be given to the origiansl. This CD is readable by any Mac or Windows computer running Adobe Acrobat or Reader, version 5 or above.
$ 15.00 (Includes Postage)