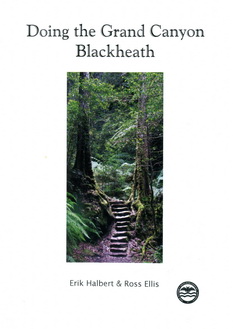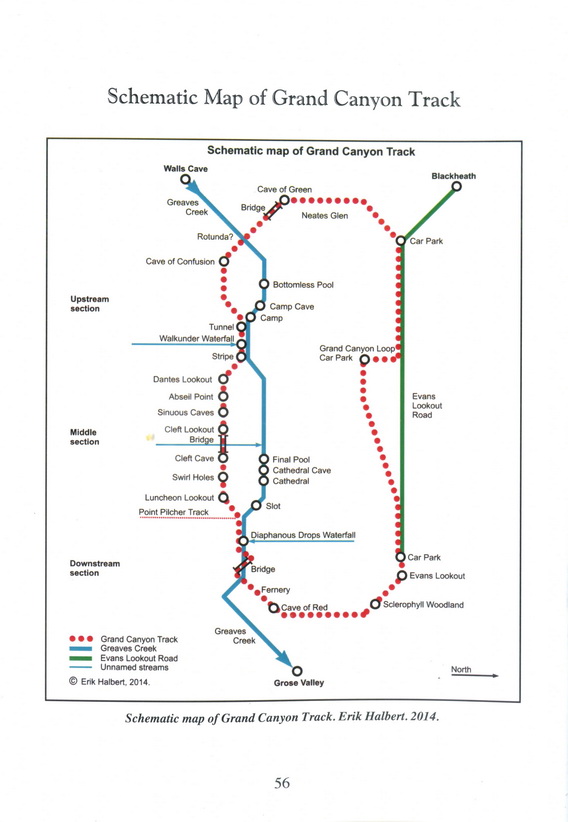 Doing the Grand Canyon Blackheath
Author:
Erik Halbert & Ross Ellis
Published:
* May 2014 - Limited edition of 50 full colour copies
Description:
Paperback, size 15 x 21 cm, 56 pages, 90 colour photos, 11 b x w photos, 1 sketch, 4 colour maps, and 31 notes.
This book shows a brief glimpse into the various aspects of The Grand Canyon at Blackheath, one of the most popular tourist destinations in Australia's Blue Mountains. Contents cover The Grand Canyon, describing its Downstream Section, its Middle Section and the Upstream Section.
As cavers, the authors describe several caves, namely, Cave of Red, The Cathedral, Cathedral Cave, The Tunnel, Bridge Cave, Camp Cave, The Cave of Confusion and Cave of Green, along with swirl holes and speleothems.
Several unique postcards of features in the canyon are also reproduced along with current photographs of the sites. The walk through the canyon is described, starting from the Evans Lookout end and coming out of it via Neates Glen. It includes a detour into the lower reaches of the canyon along the old Cathedral Track and the upper reaches of the canyon to the Bottomless Pool. Some of the history of various named and unnamed scenic spots is given, along with the development of the track itself from around 1900 to the present day.
$ 18.00 (Plus Postage)