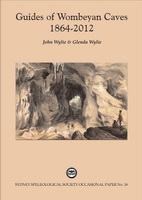 Guides of Wombeyan Caves 1846 - 2012
Author:
John and Glenda Wylie.
Published:
February 2013. Soft cover only.
This is a limited edition of 140 numbered copies, of which 100 are bxw and 40 are colour.
Description:
86 A4 size pages.
4 Colour Card covers on black and white edition. All other pages b x w.
Seven Chapters. 1) The First Custodians of the Wombeyan Caves, 2) Exploration and Explorers, 3) Artistic Views, 4) Rewards of Discovery, 5) Creation of the Reserve, 6) Guides of Wombeyan 1864-2012, 7) Past and Present Guides - Their Own Experiences
Colour edition: 1 colour painting, 13 colour maps, 15 (sepia, colour and bxw sketches), 60 bxw photos, 217 colour photos.
$ 40 (Plus Postage)