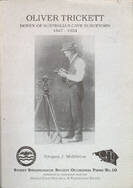 Oliver Trickett
Doyen of Australia's Cave Surveyors 1847 - 1934
Author:
Gregory J Middleton.
Published:
November 1993. Soft cover only.
Description:
156 A4 pages Soft Cover. 40 B&W photos, 38 Cave maps (3 coloured and fold out), 35 area maps (2 coloured), 16 figures and sketches, 2 tables, 101 References, 2 Appendix, detailed Index, Colophon.
Contents:
Introduction, Origins, Mines Department, Cave Guidebooks, Other Work, Surveying Techniques, Cave and Mine Models, Post Retirement, References, 2 Appendix (125 Item Bibliography), Index.
$ 38.00 (Plus Postage)