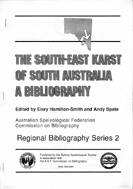 The South-East Karst of South Australia, A Bibliography
Edited:
Elery Hamilton-Smith and Andy Spate.
Series Editor:
G J Middleton.
Published:
July 1996. iv + 34 A4 pages.
Contents:
15 Subject classifications and listings, author indexed ( 7 pages) to almost 700 author entries and 594 references ( 27 pages). The earliest reference is BURR, T., 1845. Account of Governor G. Grey's Exploratory Journey Along the South Eastern Seaboard of South Australia, while the latest is May, 1994. The three most referenced subjects are Cave Exploration / Descriptions (including cave diving), with 136 references, Hydrology, with 92 references and Land Use / Resource Management, with 85 references, while the least referenced are Travel and Description, with 17 references and Physiography with only twelve.
$ 5.00 (Plus Postage)